Walking In and Out of Grief
Walking a labyrinth may sooth your grief. Here's how.
What to do with grief
The day after my dad's funeral, June 2, 2016, I tied up my sneakers and hit the road. I couldn't sit still, needed to do something, but didn't know what to do with myself. Walking seemed manageable to my weary spirit and exhausted self.
The thing about walking is that most of us can walk with little attention. The physical body is capable of putting one foot in front of the other. Stopping appropriately at crossings and moving around obstacles happens with minimal demands on the brain. This allows the heart to simply be, the mind free to roam, our emotions to flow and our spirit to heal.
Labyrinth Walking
Walking a labyrinth has even less requirements than walking in general.  There is one path, no crossings, no obstacles, and no decisions to be made. A labyrinth is a walking path based on ancient patterns and usually contained within a circle.  You follow a single weaving path in to the center and retrace your steps along the same path to leave.
Labyrinths are a sacred place for walking meditation or prayer. They inspire a meditative state, and often serve as metaphors for relationships, well-being, life's journey, recovery, and whatever comes to you.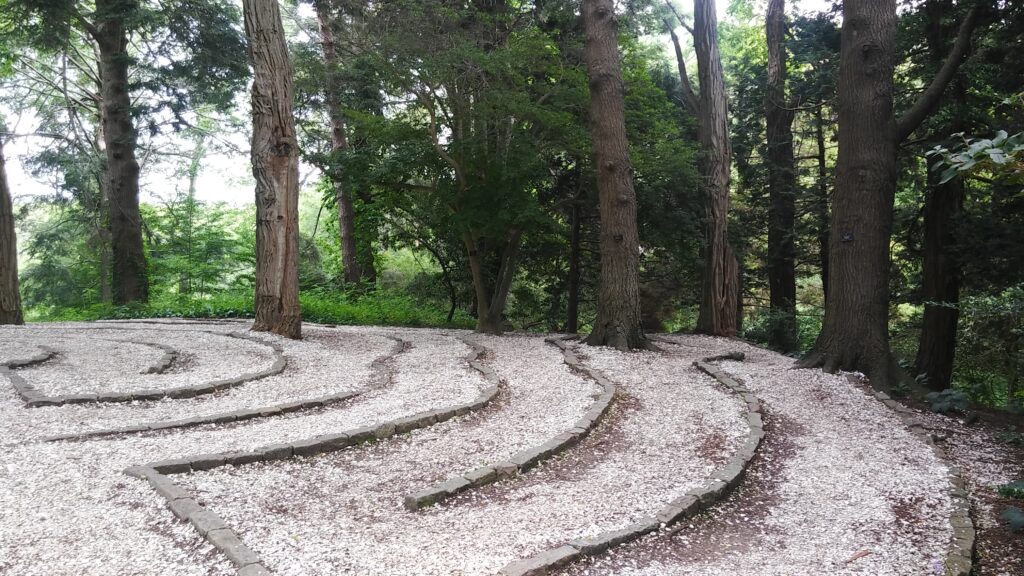 Letting go of grief – walking in
"Once you step across the threshold, the labyrinth has a really clear container feeling to it. People feel very safe in the labyrinth."

– Rev. Lauren Artress, 4-18-2015 interview by Greer Barker.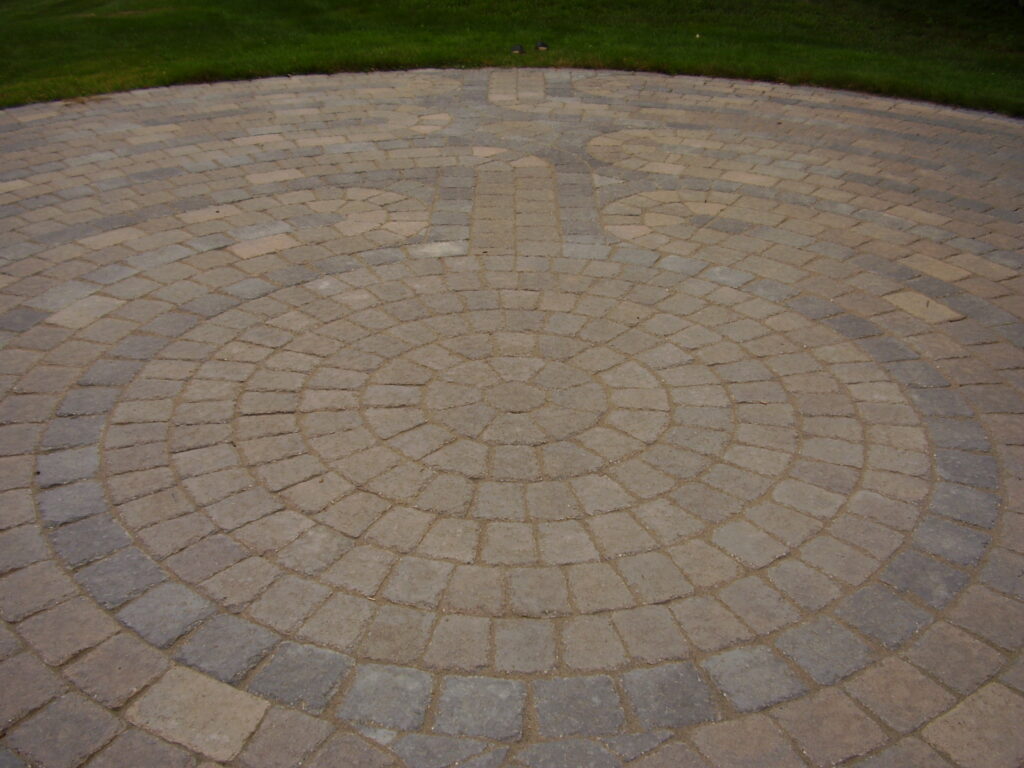 Walking inward on a labyrinth, you may set your intention to drop away whatever you are metaphorically carrying. This might include the expectations and demands you or others place upon you. Or maybe you are carrying a heavy list of "to do's." Some carry the need to be watchful or vigilant for those in your care, perhaps one who has recently passed on. That vigilance was hard for me to release; I was accustomed to being aware, always, of my Dad's safety and well-being. You may also be carrying some heavy emotion or memories, especially if you are grieving. Allow your labyrinth walk to lighten your load at least for a while.
The first part of your labyrinth walk is to walk towards the labyrinth's center. Some people like to pause in the center. It's up to you.
Walking out
"The mind is doing the activity of focusing on the labyrinth. The rest of our deep intuitive nature is allowed to come forward because the mind is occupied in a very solid way, which can be helpful if we are storing a lot of emotion, like grief."

– Rev. Lauren Artress, 4-18-2015 interview by Greer Barker.
When you are ready to leave, part two of your walk is to follow the same path from the center on out of the labyrinth. This is the process of returning, while moving forward. Simply walk and don't worry yourself about what's happening. Just walk.
When you come out of the labyrinth try to pause for a bit rather than rushing off. Some labyrinths offer a bench nearby for this purpose.
Suggestions for labyrinth walking during grief
"With grief specifically — the way I understand and experience my own grief — it is like a well that fills up. When it fills, then you need to release."

– Rev. Lauren Artress, 4-18-2015 interview by Greer Barker.
The Reverend Lynn Artress, one of the foremost labyrinth facilitators and educators, suggests the following ideas for people who are grieving.
Find a labyrinth on the World-Wide Labyrinth Locator. They are everywhere!
Consider walking the labyrinth two or three times in a row, until your well of grief has been drained.
You may choose to rest in the center of the labyrinth.
Visiting a labyrinth once will likely be helpful.
Visiting a labyrinth regularly, perhaps weekly, may be more helpful to frequently drain the well of grief described by Rev. Artress. As she says, and you have probably experienced, the grief well will likely fill up again. Visit a labyrinth as often as you like.
Attend a labyrinth group event or ceremony led by a trained labyrinth facilitator.
Soothe your grief
Soothe your Self, soothe your body-mind-spirit. Walk outdoors in nature. Walk a labyrinth. Walking can allow your sacred self time to experience your emotions and your spirit, while keeping your physical body busy doing something healthful.
If you are new to labyrinths, you might like to visit some of the virtual resources included below.
Be gentle with yourself.
In peace, Gale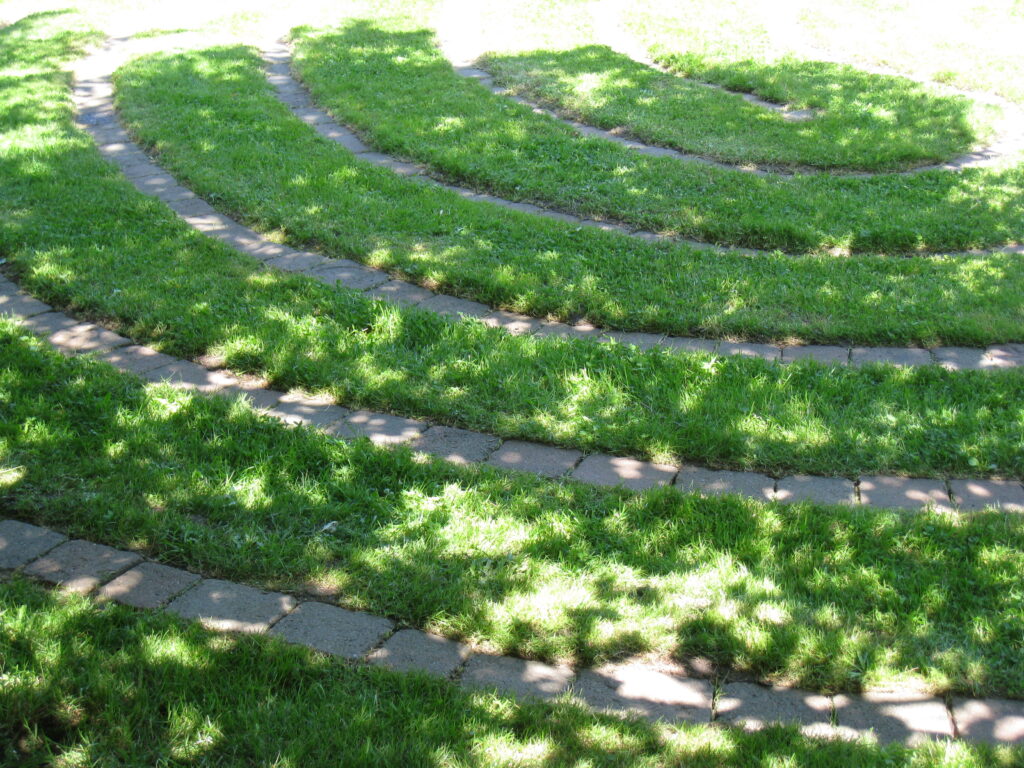 More information about labyrinths
Labyrinths of Love | TLC, The Lyman Center for Caregivers
Lauren Artress | A Leading Force in the Worldwide Labyrinth Movement
World-Wide Labyrinth Locator – Welcome
The Labyrinth Society: The Labyrinth Society
The Labyrinth Society: The Labyrinth Society: Resources
How Can a Labyrinth Help in the Grieving Process? An Interview with Lauren Artress, Part One – SevenPonds BlogSevenPonds Blog (source, quotes of Rev. Artress)
How Can a Labyrinth Help in the Grieving Process? An Interview with Lauren Artress, Part Two – SevenPonds BlogSevenPonds Blog
---
Sometimes, attaining a state of relaxation seems impossible. Even if you know the benefits – quality sleep, resistance to infection, less muscle pain, better problem solving – you cannot get to a relaxed state from your stressed state. Fortunately, even if relaxing seems unattainable, soothing yourself can reduce your stress level by a degree or perhaps two.
Sometimes simple soothing strategies are not going to meet your needs. At those times, get expert help. Here's a link to online chat and a telephone number. If you're thinking about suicide, are worried about a friend or loved one, or would like emotional support, call the Suicide Prevention Lifeline at 1-800-273-8255 or visit their website to start an online chat at https://suicidepreventionlifeline.org/talk-to-someone-now/ Or, call your doctor, your therapist, your pastor, or get yourself to an emergency room. Be safe.
Soothe yourself when you have had a difficult day, have too much on your plate, or perhaps are experiencing a period of intense change. You deserve it.