How to stay healthy during hard times, including pandemics
Fatigue and stress are not going to keep us safe. During the Covid 19 pandemic, I needed an Extreme Self-Care Plan to protect my health, so I can be available to protect and care for my husband. When I say 'self-care' I mean, "What do you need to do to remain well?" This is not a blog about pampering spa treatments. It is a blog about how to protect your health during challenging times. You might say you don't have time. I didn't have time – I was already doing more around the house, caring for my ill husband, and working from home. But I wouldn't be able to continue if I didn't put some time into protecting my own health.
When my state issued a "Stay at Home Advisory" due to the Covid 19 pandemic, my household had already been experiencing challenging times for months. My husband was just six weeks post op from having open heart surgery. I was weary from caring for him, worrying about him, and doing all the household chores he physically couldn't do. When the Department of Public Health advised staying at home, especially those vulnerable to infection and prone to respiratory problems, we knew we had to do so. His lungs and heart had not yet fully healed, and my lungs were already impaired from an exposure to dry cleaning fumes years ago.
To protect him from all colds and influenza, we had been incredibly careful and rather isolated since his surgery was scheduled. But after learning how easily Covid 19 can spread, we became even more concerned and even more vigilant. Now, everything we do and everything we need to obtain requires lots of planning and takes more time than before. Most debilitating is the my exceptionally long list of realistic concerns – never mind the foolish middle of the night irrational worries. I need an Extreme Self-Care Plan to protect my health
The "Stay at Home Advisory" was issued more than two months ago and I can honestly say my Extreme Self-Care Plan has worked. I am centered, healthy, sleeping better, able to work and able to care for my husband and household. Here are the changes I made to create an Extreme Self-Care Plan.
-Eat breakfast in silence or in casual conversation with my husband, by postponing all emails, texts, news, weather, and social media contact until after eating.
-Reserve one hour on either Saturday or Sunday (my days off) to be alone with myself. I might read inspirational things, journal, sit with my thoughts, pray, close my eyes while letting my thoughts drift, or whatever.
-Continue my 10-minute morning movement meditation, and air the house out during those 10 minutes.
-Zoom Zumba classes with my friends now that we can't meet in person
-Stay connected to the earth by starting the "Nature Photo Challenge" on Facebook, now in its 65th day. This requires me to look for nature to photograph so I have a photo to post every day.
Images from my Facebook "Nature Photo Challenge"
-Eat our 'big meal' at midday, followed by rest hour. We started this to manage my husband's post-op fatigue, but I found that rest hour benefits me as well. He sleeps; I might call a friend, read, or nap. Then I return to work refreshed and more productive.
-Once a week, be sure to leave the neighborhood and go for a ride. (As the pandemic grew, it wasn't safe to go anywhere in particular)
-In lieu of evening TV, at least sometimes, do puzzles, play dominoes, or call friends for group chats.
-Only check email and texts 4 times a day. I have removed sound notifications from my smart phone.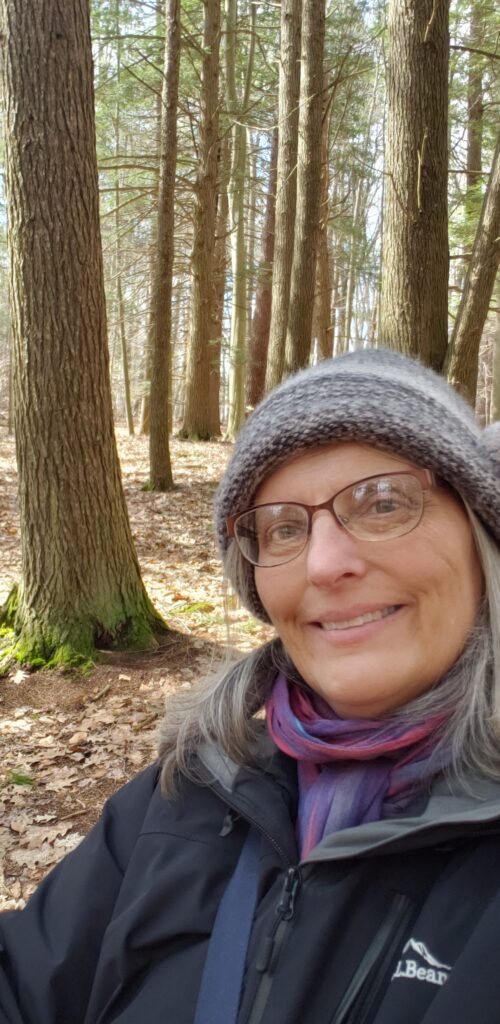 -A mandatory daily 10 to 20-minute walk in the neighborhood, despite snow, rain, and wind.
-At mealtimes, replace talk about the pandemic with storytelling and music.
-Family meetings as needed to discuss our feelings or new ways of doing things.
-Create an evening routine to promote excellent sleep. I turn the lights down low, diffuse essential oil, do energy clearing, review and reflect upon my day, offer gratitude, and do my usual combination of prayer/yoga/physical therapy exercises. This requires shutting the TV off ½ hour early, which is no great loss.
-Eat as well as possible. For me, this means little refined sugar and processed foods and smaller servings. I eat home cooked whole foods, enjoy the occasional treat, drink more water, and sip my favorite healing teas.
-Extra effort to stay in touch with family and friends. Social media, text messaging, and 'online meetings' are an efficient way of staying in touch when I don't have time for individual phone calls.
-Take a vacation day when needed. I am overdue for a vacation, but where is there to go? So, I have taken a few long weekends at home, which isn't as much fun but does give me a bit of extra time to sleep and do a few things I enjoy, like gardening.
One of the many advantages to my Extreme Self-Care Plan is the routines created. I find routines to be soothing, especially when everything around me is unsettled and changing. Conversely, another advantage was a break from routine, like our weekly joy rides and varied evening activities.
Everyone's needs are different. What ensured the success of my Extreme Self-Care Plan was recognizing the need for healthy behaviors in order to navigate the needs of my husband's recovery from open heart surgery while living through a pandemic. The second secret to success was taking the time to consider what would make a big difference without adding undo burdens to my day. If you scan my self-care activities again, you may notice that most require doing something differently rather than adding to my already full to-do list. A third secret to success is reminding myself to be present and enjoy meals, walks, friends, gentle movement, and days off. Honestly, I often must repeat, "Today is my day off and I shall enjoy it!" It is just so easy to get caught up in my worries or in responding to the needs of others.
The lesson to carry forward is that there are times in life when we need to take action to protect our health not only from pandemics but also from the stress and fatigue inherent in major life crises and challenges. Do you need an Extreme Self-Care Plan? Think about what will enhance your health, and remember to include the big five: diet, exercise, sleep, relationships, and a spiritual connection to Something Greater. In the comment section, please let us know what works for you!
In my next blog, I'll explore being of service to others, even when under a public health "Stay at Home Advisory."
In peace,
Gale